Name: Lita Beaufort
Alias: God of Chaos, Chaotic Queen
Gender: Female
Age: 23
Birthday:3,10,X852
Appearance: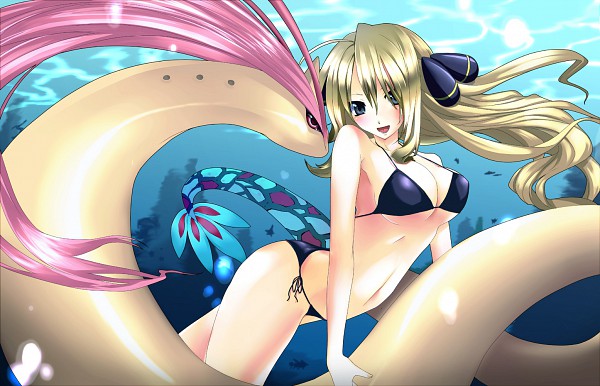 Height: 5,6
Weight: 140
Sexuality: Bi
Personality: Lita has that leader type personality she is more of the time to lead others into battle and lead them into life. Lita has a calm personality which most people don't understand about her even in the face of danger Lita isn't move in fact she enjoys it and keeps her cool. Lita enjoys fighting but most of the time nobody stands much of a chance fighting her as such she tends to be lazy in a battle but when she is push to the point that she has to fight for real she gets serious and excited to try out her skills in combat.
Relationships: If your character is some how connected to another character. Tell us about it.If not, leave blank. If your character has more then one relationship you should right them like this
Respect- 0100
Friendship - 0/100
Attraction - 0/100
Trust - 0/100
Status - (like friend.rival,lover)
Info - (Tell how you met them or)
Likes:
Reading books
Playing music
Listening to music
Animals
Driving
Going on trains
Sleeping in late
Hot baths
Hot and sexy clothes
Meeting new people
Cute boys and girls
Dancing with people
Dislikes:
People annoying her
Doing to much work
Being told what to do by others
People touching her breast
Strength:
Enhanced Magical Power-Lita has shown to have tremendous Magical power. Many opponents comment that Lita's very presence is monstrously overwhelming. Her magical power takes the form of black energy with shooting sparks of white lightning from the ground destroying most of the ground. Lita when releasing her magical force creates like a dome barrier around he which sends anything back at her opponent
Keen Intellect-Lita has been shown to be very observant of her opponents' abilities and powers, even going as far as to use it against them. Though she does sometime get carried away with her intellect not thinking everything out
Immense Strength-she possess unique strength being able lift about 50 times her own weight and throw back at others. As a slayer she is able to fight like no other close combat fighter but Lita is able to move like image leaving about five images of herself that weren't there and her punches are able to break through shields.
Weaknesses: Even though she is this strong Lita greatness weakness is the fact that she doesn't always fight Lita is one of the lazy fighters because nobody can match her she doesn't normally fight with full strength at all.
Extra information: Tell us something extra about your character. If you don't want to leave it
GUILD
Guild:Shadow Wolves
Guild Tattoo: The color is silver with some black and his located on her right hand
Rank: SS
MAGIC AND ABILITIES
Name Magic: Chaos God Slayer
Magic: With Chaos God Slayer Magic, Lita has absolute dominion over all the "chaotic forces in the universe". This allows for a vast array of different elements and abilities to be under her control. Some of the domains associated with Chaos God Slayer Magic are Destruction, Fire, and Darkness-based abilities. Chaos God Slayer Magic is activated by turning desires into magical energy. Lita energy when engulf in her hands will normally be black with sparks of white lightning around her power of magic is so strong that by releasing a bit of the chaotic power alone she can level cities and break out of barriers easy. Because of her chaotic power see eats fire,lightning,wind,earth,water and darkness Lita magic also boost up her physical capabilities and heal, as well as manipulate her own luck as she takes in the negative force and can turn it into positive.
Magic Seal:
Strength: Anything negative and chaotic will boost up Lita magic overall without a worry
Weaknesses: Lita doesn't really have a weakness when it comes to her magic but it is noted that the chaotic God Slayer can be beaten by other types of slayer magic mostly dragon slayer or demon slayer which types is something like acid or poison but its still very hard
BACKGROUND
History:Lita was a child who was born into a rich life style her parents sold many things and they wanted Lita to be a rich women. Even as a child Lita was against the whole money making idea seeing it as stupid. One day Lita sick of the same old thing getting up and working then learning she ran away from home. On the outside of town she met a women who was making men cry Lita who was only eleven at the time asked why was she doing that. Lita and the women had a long talk before she knew it they were going places together and they looked alike which made them like sisters. As the years passed Lita caused chaos and was learning before she it she had become a God Slayer still traveling with her sister Lita watched as one of the most famous guilds Flare Tree was destroy in her eyes she learned that she needed power to become stronger. By the age of seventeen Lita was crowed one of the kings for her powerful slayer magic and how she used it by this time her sister or teacher had left her not long after the council had wished for Lita to join one of their guilds which she did after they agreed to pay her a high price every two weeks. Lita has been in Shadow Wolves as one of their most powerful members for long time now even though she isn't there because she works as a slayer king.