Name: Cobra
Alias: Poison Dragon
Gender: male
Age: Unknown
Appearance:
Height: none
Weight: none
Sexuality: Straight
Personality: Like the other members of the Oración Seis, Cobra is confident and enjoys seeing his opponents suffer. Cobra believes that Second Generation Dragon Slayers are superior to First Generation Dragon Slayers, and even finds their existence questionable, as 
Dragons
 are believed to be extinct, and therefore finds it ridiculous that people such as Natsu were taught their Magic by nonexistent beings. He is also quite easy-going, as he was able to laugh at a joke during a battle.. Cobra harbors great affection towards his snake 
Cubellios
, considering her to be his greatest friend, and being willing to dedicate his 
prayer
 to hear her voice, which in itself is impossible, even for someone like Cobra, who has exceptional hearing. However, he does not know that Kinana is Cubellios herself..  In X791, Cobra has a more quiet, angry, and hostile personality. He frequently belittles Erza Scarlet and the Fairy Tail Guild for their faith in friendship. He also experiences inner turmoil regarding the Reborn Oración Seis, and how much they had to give up; he believes that Fairy Tail is undeserving. It is not until he is defeated by Erza and he sees Kinana again that Cobra forgoes his forsaking of friendship.
Relationships: If your character is some how connected to another character. Tell us about it.If not, leave blank. If your character has more then one relationship you should right them like this
Respect- 0100
Friendship - 0/100
Attraction - 0/100
Trust - 0/100
Status - (like friend.rival,lover)
Info - (Tell how you met them or)
Likes:
Snakes
Fights
Dislikes:
Loud Mouths
Annoying People
Extra information: Tell us something extra about your character. If you don't want to leave it
GUILD
Guild: Crime Sorcière
Guild Tattoo: somewhere
Rank: S
MAGIC AND ABILITIES
Name Magic: Poison Dragon Slayer Magic
Magic: By having Dragon Lacrima implanted into his body, Cobra obtained the ability to use this Magic. It grants him the power to produce poison from his body and to consume the one produced from external sources to heal and strenghten himself, which, as a result, grants him immunity from poison. The poison that he produces from his skin is so corrosive that it is said to be able to decay all that it touches, but can also act after a given amount of time: Cobra stated that its effects are first visible in a progressive weakening of the victim's body, which then results in death.[20]
Magic Seal:Red and purple data: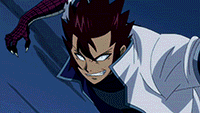 BACKGROUND
History:
J
ellal
 enslaved Cobra as a child until Brain arrives at the 
Tower of Heaven
 and takes Cobra and four other enslaved children to become members of his own guild, all with Jellal's permission.
Cobra soon became a member of the 
Oración Seis
, one of the three most powerful Dark Guilds, and, much like his guildmates, began to seek out the lost, destructive Magic that is 
Nirvana
.