Name: Ayuki Villacorta
Alias: Black Crow
Gender: Female
Age: 23
Birthday:2,14 X854
Appearance: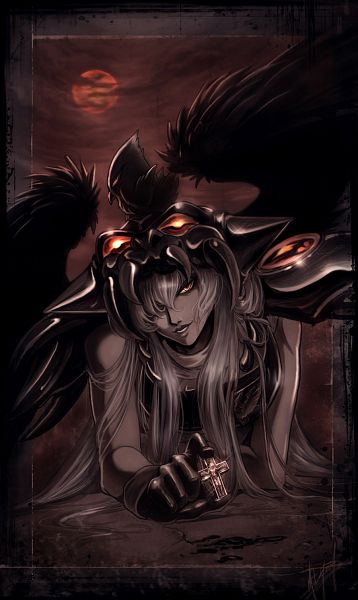 Height: 5,5
Weight: 130
Sexuality: Bi
Personality: Ayuki is sadistic person she loves the joy of being hurt or watching others get hurt it allows her to enjoy the battle more and she gets more out of it. She loves seeing the flames of body and the screams of others but she hates it when people don't scream when they just sit there. Ayuki takes any chance she can when it comes to people be it when they are feeling sorry for her or when they are sick she will use it to end their life and destroy them.
Relationships: If your character is some how connected to another character. Tell us about it.If not, leave blank. If your character has more then one relationship you should right them like this
Respect- 0100
Friendship - 0/100
Attraction - 0/100
Trust - 0/100
Status - (like friend.rival,lover)
Info - (Tell how you met them or)
Likes:
Murder
Blood
Hurting people
Little kids
Birds
Watching people cry
Flying
Dislikes:
Love
Feeling happy for no reason
Losing
Strength: Ayuki isn't what some would call a fighter her attacks mostly don't do damage to the person body on the outside but they do damage on the inside because of how she is when it comes to close combat she likes the person to cry from the pain they feel inside. Ayuki when enjoy a fight moves at mach speed almost so she can grab onto her opponent and attack them
Weaknesses: Her pleasure for pain is her downfall the more pain she feels the more hype she gets and she doesn't think clear because of it..
Extra information: Tell us something extra about your character. If you don't want to leave it
GUILD
Guild: Exodus Seis
Guild Tattoo: Her stomach and is black
Rank: S
MAGIC AND ABILITIES
Name Magic: Demonic Crow
Magic: Ayuki magic is a dark magic that is base on the evil crow demon. With her magic she can do three things the first thing is cast spells on others with her eyes Ayuki crow eyes can stop her opponents from moving like they are in a web of some kind and they can cause her opponent to be blown away. Second her magic allows her to use the feathers of crow which make things heavy and slow things down, the claws of crow that slash through magical energy leaving holes. Last her magic gives her special attack powers to create powerful dark blast of energy and use them in her other powers.
Magic Seal:A black circle with a crow in the middle
Strength: Nothing
Weaknesses: Nothing
BACKGROUND
History:Ayuki was a normal child till one day her home was attacked Ayuki and her family were taken in by a group of bandits there she was beaten and tortured in horrible ways. Ayuki watched as others were tortured worse then her and she watched her family scream. One day the bandits had Ayuki tortured her mother to which she took greet pleasure this is when she became crazy Ayuki started killing to get pleasure and feel something finally she killed her family and her bandits. Ayuki wondered and found herself alone in the world till she joined a dark guild under an evil council member having been there since there.