Name: Minerva Orland
Alias: None
Gender: Female
Age: Unknown
Birthday: Unknown
Appearance: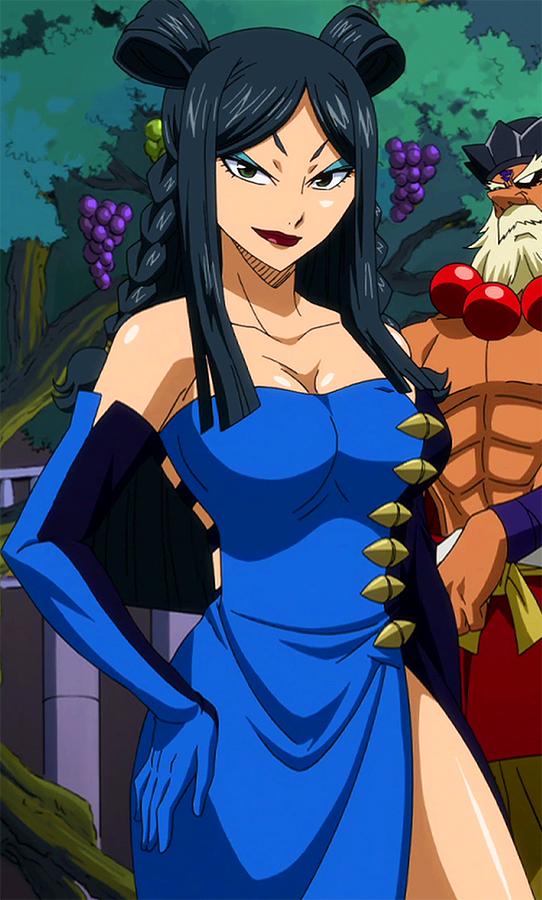 Height: Unknown
Weight: Unknown
Sexuality:Bi
Personality: Minerva is an outwardly calm and confident person. She speaks in an archaic, old form of Japanese. Befitting her speech, she is very mature and wishes that the people around her act accordingly.
However, during the Naval Battle event of the Grand Magic Games, Minerva shows a sadistic side of herself, purposely keeping Lucy within the water sphere of the fourth event when she could easily have removed her, whilst at the same time continually beating and striking her with both her body and Magic despite Lucy's inability to fight back. Even after the event was declared over, Minerva showed no remorse for what she had done, and instead held Lucy's bruised body up in a trophy-like manner, smiling at her own victory.
In battle, Minerva enjoys sadistically toying with her opponents. Excusing her actions as an act of "boredom", she tortured Millianna during Erza and Kagura's fight, slashing the former's back. Also, just to rile her opponents, she stated that the screams were like "music to my ears".
Just like her father, she views Sabertooth as the strongest and believes weaker Mages to be nothing more than "trash" Minerva also doesn't hesistate in taking a hostage to achieve the ends to her own means, even if the hostage is a comrade, like Lector, or her opponent's friends, such as Happy or Millianna.
When faced with defeat, however, Minerva's sadistic and cold nature, along with her severe level-headedness, disappear. She instead, turns into an apologetic, cowering figure, quite opposite her general, outwardly portrayed self. In addition, it appears that Minerva, despite her sinister attitude, truly does love her Guild and only wanted to make it the best that it could possibly be, as she was seen crying upon Fairy Tail's victory in the Grand Magic Games.
Strength: Enhanced Strength: Minerva possesses an above average physical strength as she could easily lift Lucy Heartfilia with a single hand after defeating her at Naval Battle.
Acrobatic Skills: Minerva has been shown to possess flexibility that allows her to do acrobatic moves. She has been shown to, with the use of her Magic, appear from thin air and, while twisting in the air, throwing both Erza Scarlet and Kagura Mikazuchi and still be able to land perfectly on both feet.
Hand to Hand Combatant: Minerva has proven to possess some skill in bare-handed fighting, kneeing Lucy in the ribs right after teleporting her. Furthermore, she was able to parry the slashes of both Erza Scarlet and Kagura Mikazuchi intercepting them with her hands, albeit shielded by her Magic.
Great Magic Power: Despite being inferior to Orga Nanagear in this aspect, Minerva possesses a very high amount of magic power: she was able produce a spell that completely blocked Natsu Dragneel's powerful Lightning Flame Dragon techniques without breaking a sweat; she brutalized Lucy for a near non-stop ten minutes with her magic; even after confronting Erza Scarlet and Kagura Mikazuchi, despite having unleashed her ominously devastating Yagdo Rigora, she did not look tired in the least
Extra information: Minerva is the name of the Goddess of Wisdom, Strategy, Poetry, Crafts, Medicine and Weaving in Roman Mythology.
GUILD
Guild: Sabertooth
Guild Tattoo: Left Waist
Rank:S
MAGIC AND ABILITIES
Name Magic: War God Magic
Magic: Her Magic revolves around the manipulation of space, which allows her to manipulate any spatial region within her line of sight. This is seen used to block one of Natsu Dragneel's powerful Lightning Flame Dragon techniques with little to no effort. It also allows her to teleport things instantly out of thin air, such as when she had Happy, who was no where near her present location, materialize in her arms via her Magic, not to mention moving Lucy who was at the edge of the water orb was transported in her direct line of attack.She can also switch positions with her chosen target, like she was teleporting.It can also be used offensively: the waves can harm a human target heavily, being directly sent at target like lead or surrounding the target and causing several attacks at once. She can also change the properties of a space such as producing heat underwater or creating explosions.
Attacks:
Ih Ragdo (イ・ラーグド I Rāgudo): Minerva does a hand-sign which causes the targets to be enveloped by her wave matter. This spell can also be used to entrap her targets and restrict their movements.
Yagdo Rigora (ャグド・リゴォラ Yagudo Rigōra): By chanting the incantation "Niel Wielg Mion Terse Elcantaeus: Yagdo Rigora" while waving her hands in a circular motion, Minerva conjures a large statue with intricate designs and patterns over its body, creating a powerful blast. Mavis Vermilion refers to this spell as Yakuma's Spell of the Eighteen Gods of Battle.[
Ih Ralgas (イ・ラルガス I Rarugasu): Minerva envelops her hand in an orb of War God Magic in preparation for this particular spell. Its effects, however, are unknown, as its casting was interrupted by Erza Scarlet.
Magic Seal:None
BACKGROUND
History:Not much is known about Minerva's past. However, what is known is that in her early days she had to endure hellish training in the hands of her father, Jiemma, who both verbally and physically abused her whenever she displayed behavior that, according to him, showed weakness