Name: Juliet House
Alias: Juliet the twist,Princess,Crimson Liger Monster,Knockout
Gender: Female
Age: 24
Birthday:1,24,X859
Appearance: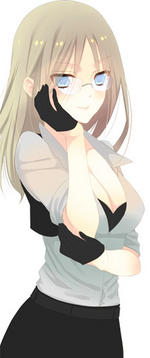 Height: 5,11
Weight: 150
Sexuality: Straight,
Personality:  
Before Juliet is kinda of the rude girl she tends to be spoiled in many ways as such she doesn't listen to many of her guild members and will do what she feels like. Juliet is one of the strongest mages in her guild as such she has a big head because she is only an A rank mage Juliet doesn't mind picking a fight with anyone. Spoiled and all she is a girl she is sweet and kinda of kind hearted overall.
Now Juliet is still very rude and she is still very spoiled but you will not see this side from her unless Juliet is drunk,in a bad mood or just feels like being a witch. Growing up these last six years has made Juliet a much more mature person, she is able to think about other people beside herself, she is a respectable person now much more then before, she is able to take responsibility for her actions unlike before. Still a sweet girl at heart she freely shows it now to others mostly little kids. Growing older Juliet has the need that most women want and that is to be a mother. Juliet is looking to settle down and have kids at the same time she is looking to become the next guild master. 
Relationships: If your character is some how connected to another character. Tell us about it.If not, leave blank. If your character has more then one relationship you should right them like this
Ally
Respect- 100/100
Friendship - 100/100
Attraction - 70/100
Trust - 100/100
Status - Guild Master and friend
Info - During her younger years Juliet had no respect for Ally at all however as time pass she grew closer to Ally even becoming Ally student in some way. It was because of Ally that Juliet inspires to become the next guild master of Crimson Liger.
Alex
Respect- 100100
Friendship - 100/100
Attraction - 76/100
Trust - 100/100
Status - Friend
Info - Even when she was younger Juliet was under the spell of Alex from his strength. Spending a few years with him and having him train her Juliet has become closer to Alex has friends along with the two of them becoming almost like master and student.
Shane Rockheart
Respect- 71/100
Friendship - 66/100
Attraction - 100/100
Trust - 66/100
Status - Somewhat friend
Info -Juliet doesn't really see Shane as a friend because when they were together in the guild she would always use Shane and he would always attack her how this has change is unknown
Likes:
Jewelry
Things that cost money
Looking beautiful
Hanging out with her team
Her guild
Money
Children
Traveling to far and strange lands
Dislikes:
People getting in her way
Getting her hair messed up
Getting her new clothes dirty
Being called a brat
Strength: Like most girls in her girl Juliet is strong in body she can take damage from that of a dragon slayer and keep fighting the damage her body can take is simply shocking. Juliet if nothing else she is fast because she has to use her magic Juliet moves at quick speeds and uses it to jump over her opponent or give her an point to attack. Over the years that pass Juliet train in close combat and manipulating her own magic. Manipulating her magic allows her to save her magic, increase her magic or cause it to disappear for other reasons. Juliet before wasn't much of a fighter but she spent time with her guild master Ally and their Guild Ace Alex. Training under both of them Juliet became a well rounded fighter at first now an expert fighter she is able to handle opponents twice her size and weights, going so far as being able to throw them.
Weaknesses: Juliet hates getting her hair messed up or wet which causes her to stop a fight most of the time or when it really gets out of control she will go crazy. Though now she is a fighter Juliet has become older and much more like a woman. Though her body can take damage isn't good for as Juliet wants to have kids any long term damage will stop her from having a child. Juliet tends to stay away from battles and tends to only use her twist magic as her newer ability has a greater weakness then it does power.
Extra information: Juliet is single right now and looking for a boyfriend
GUILD
Guild: Crimson Liger
Guild Tattoo: Her left rib cage and its light blue
Rank:A
MAGIC AND ABILITIES
Name Magic: Twist/Bend,Juggernaut 
Magic: Juliet is able to twist and bend magic by using her eyes or her hands an example  would be Natsu releasing a dragon roar and Juliet looking at it she would be able to bend the flame around into nothing. Juliet can easily bend a person bones which she does most of the time in a battle to cause them to stop moving or to kill them easily. Juliet twist and bend appear also work on the mind allowing them to see whats there and whats not making it seem like an illusions. Juliet can twist people into different places even if they are far away she can still do it she can also make herself disappear.
Juggernaut:A magic that allows the user to be come almost unstoppable. The user magic is display in a golden aura their muscle mass increase, their speed increases, their height increases they become a Juggernaut. Able to move and break through any defense. The magic act as a support magic to most but not Juliet. When increasing her muscle mass or her speed is allows to preform feets of power and new heights while putting her body through a tough time.
Magic Seal:
Strength: Juliet grows stronger every time she uses it and the longer she uses it meaning when she is in battle the longer she uses her magic the more it grows in speed and power
Weaknesses: Juliet power is weaken when she uses her magic to twist or shape large objects like a building something of that size will take up to much magical power. Juggernaut while making Juliet unstoppable on the outside on the inside that isn't the case the magic puts the user in great pain every moment they use it as Juliet muscles and speed increase her heart races more, she sweats, she becomes very sick and she spits up blood even if she deals a great amount of damage to her opponent she does more to her own body.
BACKGROUND
History:Juliet father was a member of Crimson Liger when it first started out growing up in the guild she saw how much the guild had change. Juliet wanting to be a member like her father watch the guild members from the first guild master to the second. Asking her father when she turn nine could she join the guild as a full member he agreed. Now hitting her ninth birthday Juliet got her guild tattoo and join Crimson Liger going with her father on mission she gained exp on how to be a mage and how to battle other wizards. Over the years with the second master Juliet watch them get new members but she also watch the other master get ready to leave she built a bond with some of the members in her guild and even form a team where she protected one of the new members. Even after building a bond Juliet became somewhat of a spoiled brat. She went on missions and kept all of the money, she treated her team members badly and was very rude to the other members of the guild. This resulted in Juliet team members leaving her all together and her being alone in the guild, her attitude and her actions cause this. With many of the guild members leaving for different reasons Juliet stay with her guild master and Alex along with a few other members. Juliet being somewhat alone didn't take any jobs she sat around Crimson Liger all day drinking and becoming angry with herself. Ally was the one who spoke to Juliet having a talk with her about friendship,bonds and responsibility of a woman she began to shape Juliet into someone new. At first whatever Ally did Juliet had some kind of smart comeback or a word for her but this soon stopped with Ally putting her foot down treating the brat like a child. Training her Juliet saw the value of Crimson Liger, friends,bonds and being a woman. Only in her 20's she began to spend time with Alex who was making an even bigger name for himself and his team. Wanting to be with some kind of team Alex and Juliet began to team up as they team up Alex began to train Juliet in fighting in close combat seeing that she was fit to do battle. Over the course of the last few years Ally show Juliet one of the many Crimson Liger books of magic and Alex taught her how to use this new magic.