Name:Taiyou Apollo
Alias:Sun God,Light,Taiyou the Infinite,Apollo 
Gender:Male
Age:21
Birthday: Doesn't know
Appearance: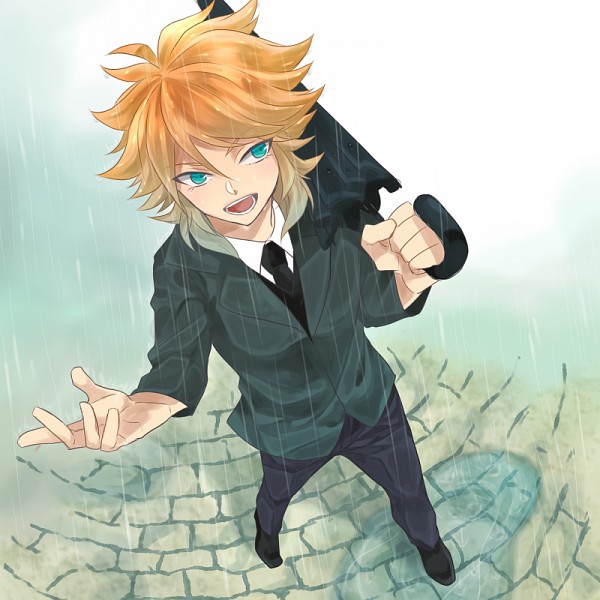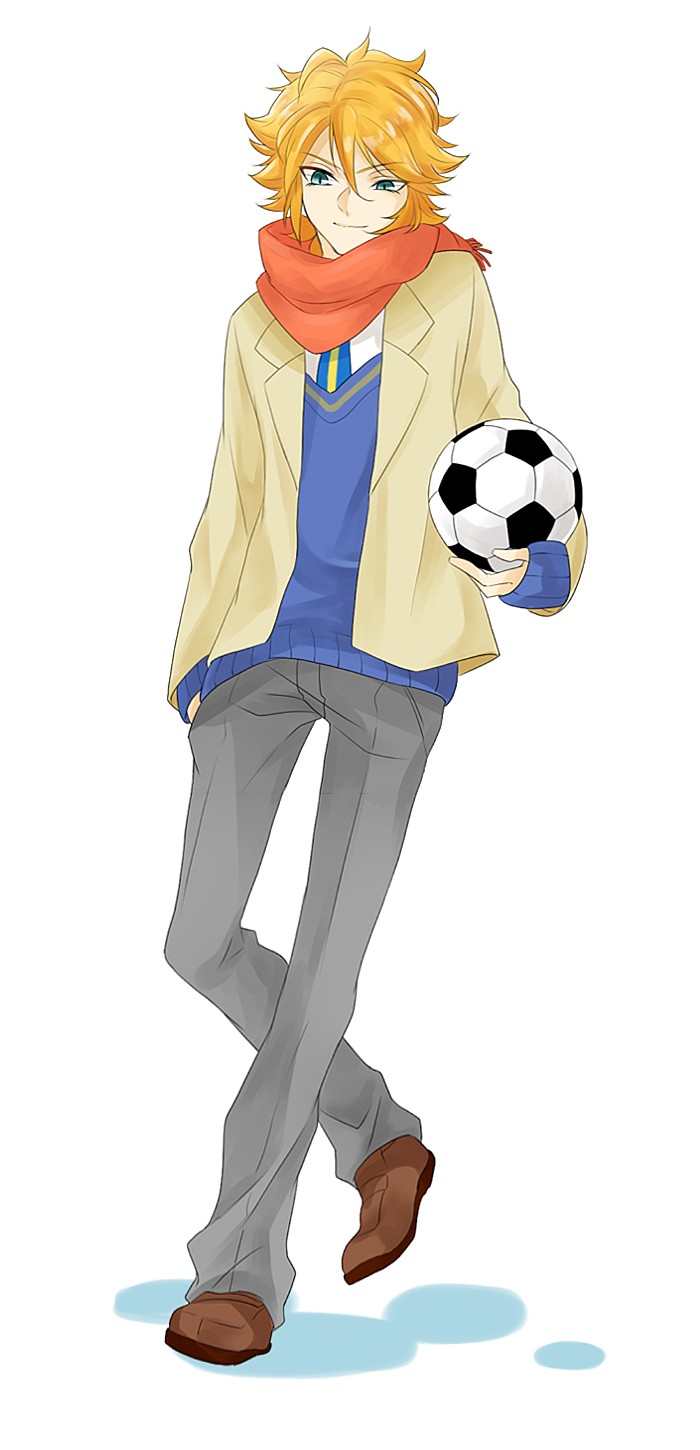 Height:5,9
Weight:160
Sexuality: Straight
Personality:He is a docile, gentle, kind-hearted, friendly and has all other good attributes a person has but he is rather reckless as shown when he feels the need to fight someone. Taiyou has this thing when he takes likes someone he doesn't or well he can't leave them alone anyway. He doesn't go easy in a fight and he is the type of person who likes to make jokes while they fight. Over the past 6 years Taiyou has become much more serious. Matters to him aren't just a joke anymore and not everything is funny as it use to be however he still jokes around. Not the docile boy he once was Taiyou words can hurt others just more then anything can hurt him in the last 6 years he has become more of an adult. As Guild Master he puts his Guild first above his friends and anything else however his guild is his home and his family as such Taiyou will go out of his way to do what is needed. A loyal man he never forgets his debts or the people who has his back or who back he has, Taiyou is still on good terms with Fairy Tail even though it has been years he is a real supporter of them. A member of the Ten Wizard Saints Taiyou has a large amount of pride that can not be damage by anyone and it only proves his skill as one of the better wizards in the world.
Relationships: If your character is some how connected to another character. Tell us about it.If not, leave blank. If your character has more then one relationship you should right them like this
Nate Almark
Respect- 100/100
Friendship - 100/100
Attraction - 0/100
Trust - 100/100
Status - Best Friend
Info - The two God Slayers of their guild Nate and Taiyou are very good friends almost like brothers and without Nate it would be like Taiyou didn't even exist the same goes the other way around that is how close the two of them are
Likes:
Candy
Girls
Playing with little kids
Sleeping in the guild
Listening to music
Running his guild
Meeting new people
Watching the sun
Finding new members
A good battle against another slayer
Dislikes:
People not liking him for how he looks
Anybody calling him short
The disrespect of his guild
Strength: A magical genius when Taiyou was only 15 he knew how to break through the most powerful spells such as Fairy Law with the basic use of magic to cancel out larger spells and break them out. It was his brain that got Taiyou notice by the council and made him into one of the Ten Wizard Saints. Being a member of the Ten Wizard Saints and a Guild Master says something about Taiyou strength. He has amazing amount of magic something you wouldn't normally see for a God Slayer or somebody his age. Taiyou magic is enough to shake an whole building almost like an earthquake and yet his magic power can manifest into a golden black aura. Like any Slayer when it comes to close combat he is some what of an expert Taiyou however is a Master when it comes to close combat. Never using any weapons his speed,power and fighting abilities all come his style of combat. Taiyou trained for 6 years, for fourteen hours a day with marital arts/close combat training to make it his number one type of combat with or without his slayer power. Taiyou moves at a speed that it leaves an afterimage in his wake, his strength rivals that of stronger wizards like Gildarts or Fairy Tail's Guild Master, his marital arts abilities are unmatched from all of the hard work and time he put it into it making Taiyou a young master.
Weaknesses:A sickly young boy Taiyou still has a weak body and it hasn't gotta worst but it has change over time. Taiyou now coughs up blood from time to time and is see looking tired a lot of time this is from his magic harming his body almost like a poison. Wit his body Taiyou is picky about who he fights and when he fights he has learned that everytime he does battle is shorting his lifespan and there is nothing he can do bout it, when in battle he will begin to breath harder then normal people and he will cough up more blood then normal people from there he will slow down and begin to become dizzy.
Extra information: Taiyou before didn't know his age over the 6 years that had pass he found out how old he was,  Some of his best friends are in the Perilous guild. Taiyou has scars on his rib cages, his shoulder blades and one on his leg from being attacked as a child. He is the youngest guild master in the Perilous Guild and he was the one who moved the guild house.
GUILD
Guild: Perilous
Guild Tattoo: Back
Rank:Guild Master
MAGIC AND ABILITIES
Name Magic:Sun God Slayer, Apollo's Tempest Fist, Izanagi Seal's
Magic: When Taiyou was younger he couldn't fully use the powers of the Sun God Slayer in the last 6 years he was able to master it. Taiyou uses a yellow like flame with streaks of black light flowing around it, in the flames or small black balls of fire as all God Slayers have a dark aura around them making their magic black. Taiyou is eats heat magic of all kinds and light magic of all kinds however the different types of heat magic will increase Taiyou own magic and it will show in the facial features of his body same with the light. He can no longer eat Wind even if it is under the sun. Taiyou is the only God Slayer to have other transformations besides God Force this comes from Taiyou being such a special God Slayer.
Apollo's Tempest Fist: An sub magic of the Sun God Slayer created by Taiyou for the use of Marital Arts. By taking small parts of magic from his God Slayer magic Taiyou is able to to his marital art skills in amazing and deadly fits that can result in him using his elements or them appearing at a late them and having effects on the opponent body. There are five inner styles to Apollo's Tempest Fist each of them for a different type of battle some may only use kicks, others my only use counters and etc.
Izanagi Seal's:Taiyou new magic that is another reason why he is called a genius. After reading about Hades and the seals along with Fairy Tail's Master. Taiyou did research on the God Izanagi believing him to be a God of creation he model a magic after him. Taiyou made one hundred seals base on magic creations that a God of Izanagi caliber. Used as support his magic can range from support to something very amazing.
Magic:
Strength: Being under the sun increase Taiyou magical strength it makes him stronger and increase his power
Weaknesses: Taiyou magic is weaken when he doesn't relax and over uses his magical powers
BACKGROUND
History:Taiyou was a child who parents just left him in a town with no where to go at this time Taiyou was only about four years old. Taiyou stay in the town looking for what little food he could find but with not much food and in a town by himself the boy was scared. Taiyou in the middle of the winter in the snow was attacked by wolves the young boy was bitten and claw till the Sun God saved him Taiyou was healed and taken care of after that. The body was in wounds for months his body was never the same. Taiyou started to train with Apollo and built up his strength he didn't know how long he was with him after that. Taiyou had became friends with another God child together they went to join a guild. Taiyou had join Perilous and time with by fast Taiyou life was changed by the people he met and the actions that was made in his life but he could never figure out his own history or why things happen. One day Taiyou and the guild master began to talk and that talked turned into a battle in which Taiyou killed their Guild Master it was in that moment that he remembered his life. Taiyou parents didn't leave him it was something Taiyou as a child was to sick for them to even care for him so they try to give him away however nobody would take a baby as sick as Taiyou. So they walked into the forest there they found a man who took Taiyou from them. Taking the young baby Taiyou sickness was cured for awhile but darkness was place inside of him. Taiyou caused trouble in every town he went in and he destroyed anything that was in his way. He was never thought by a God in person no the Sun God implanted the memories and skills into a baby Taiyou knowing for well as he grew Taiyou would become a monster. What he didn't count on was Taiyou own mind blocking out the memories and reducing his powers. All of these things came to light after Taiyou killed his guild master and yet he didn't full into darkness he took over his guild. A monster in all right everybody saw Taiyou as a monster and yet he prove to them how much he wasn't fully a monster but when ever one of his guild members came to battle him Taiyou showed no mercy for not following him. Taiyou after moving the guild was notice by the council once again and they offered him his position of one of the Ten Wizard Saints. Taiyou took it this time.