Name: Soumei Glory 
Alias: Smiling Death,Steel Rage,Blue Phoenix,The Phoenix of Glory
Gender: Male
Age: 28
Birthday: Month 8 Day 4 Year X855
Appearance: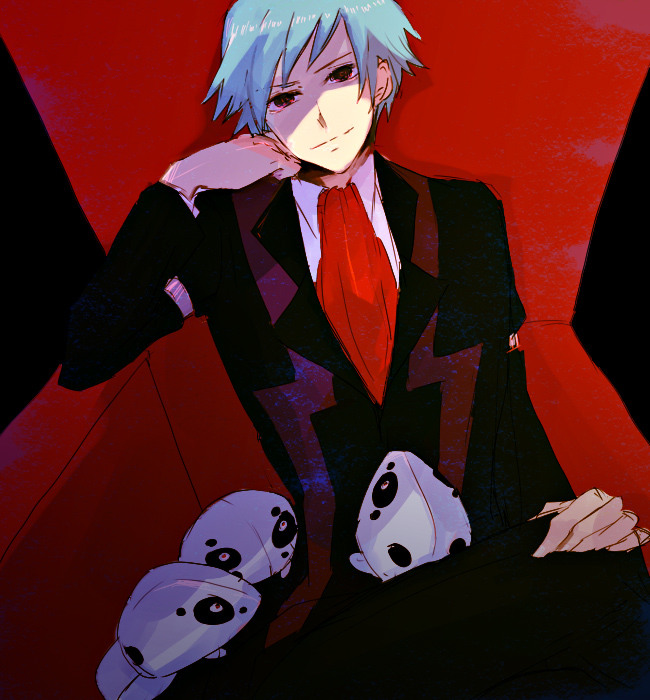 Height: 5,8
Weight: 17
Sexuality: Straight
Personality: Soumei has a respectful personality one that most people wouldn't get from the way he looks Soumei tends to respect people older then him and people ideals even if he dislikes them. Soumei tends to speak his min about things that normally he would have no business in. He shows contempt for opponents that he considers weak, noting their characteristics as a factor to their weakness and scoffing at their attempts to hurt him. Soumei is a kind person and he has a pure heart he will go to high heights to protect people and his little brother he will even put his life on the line for them. Over the last six years Soumei has become more of a leader then those years before. Believing by following by example and this rule above anything is how he runs his guild. By setting an example for everyone to follow and showing them the way is how Fallen King has become a wanted guild.
Relationships: If your character is some how connected to another character. Tell us about it.If not, leave blank. If your character has more then one relationship you should right them like this
Respect- 0100
Friendship - 0/100
Attraction - 0/100
Trust - 0/100
Status - (like friend.rival,lover)
Info - (Tell how you met them or)
Likes:
Music
Old items
History
His father
His brother
Classy food
Dressing in suits and other nice clothes
Rings
Animals
Dragon Slayer
Lost Magic
Dislikes:
The magic council
The people who took away his childhood
Not being able to keep fighting
Getting up early in the morning
Strength: Soumei has been known to to easily counter attacks while walking away as a sign of his heighten reflexes he dodge attacks usingacrobatic feats , He is extremely durable he took a direct punch to the face by Natsu without showing any signs of injury or bleeding he has even fought his guild master at time and has only come out with cuts on his body but acts like nothing has happened. Soumei in the last six years has increase his fighting abilities Soumei has been seen to adopted to fighting as he keep fighting his speed gets faster this is his ability to grow. Soumei speed will increase and increase till he looks almost like a blur or to point where he can't be seen at all by anyone, the same goes for his strength he will get stronger and stronger as the battle goes on. Soumei is a genius just like his brother which is why his body does the things it couldn't do six years ago, he is able to use more then fifty percent of his brain with that making Soumei one of the more smarter wizards in the world.
Weaknesses: Soumei isn't a weapon user he doesn't know how to use. Soumei use of the fifty percent of his brain comes from years of studying and yet it puts a huge strain on his body. By using the fifty percent in battle Soumei body takes on a huge strain much like his body being pulled and smash by boulders on top of boulders on top of boulders can this can happen in battle, most of the time it does happen in battle and once it happens it only gets worse as the battle goes on.
Extra information: His younger brother is Sai Glory
GUILD
Guild: Fallen Kings
Guild Tattoo: The whole shoulder of his right arm
Rank: Guild Master
MAGIC AND ABILITIES
Name Magic: Omega Light of the Alpha Dark, Blue Phoenix Slayer
Magic: The complete form of Light of the Dark. Soumei new magic draws from all of the negative things in the Universe and turns them into a negative dark energy. The dark energy has the power of the universe it has the pure power to bend space and has the density of the pure dark negative energy in this world.
Blue Phoenix Slayer:Soumei is the Blue Phoenix Slayer but whatever stroke of luck not really. Soumei mother unknown to him. While Sai was given the powers of his father Soumei was given the power of their mother. Soumei can feed on the flames of any kind to heal his wounds and to regain his magic, he is able to turn his body into parts of a phoenix such as wings, claws, legs or other things. Soumei blue flames burn hotter then normal flames.
Magic Seal:
Strength: Soumei magic power up once he has control over it for those few moments when he has control he cast the more powerful 
Weaknesses: The magic is very hard to use and takes a lot of control to keep it from harming anyone or harming himself as once Soumei. Omega Light of the Alpha Dark can destroy Soumei reality and everything he loves if it goes out of control, if he loses focus or low on magic it is a big problem magic for Soumei
BACKGROUND
History:Soumei history isn't something he talks about but he did help found Fallen Kings after somebody important was taking away from him and his brother their father a powerful mage a dragon slayer. When the founded the guild three years later Soumei found a friend someone who knew their father and became their master Soumei grew trust in this person and they became the guild master. Ever since then Soumei life has gotta some what easy but he still wants to do one thing destroy the council for everything those old fools have done. After the battle with his father along his little brother Soumei went off into the world. It was in that world that Soumei awaken his Slayer abilities and spent some time training them. Within a matter of months he appeared back at his guild out of the blue as the guild master. What most of the members don't know is that Soumei was given the guild by their old guild master who went off in search of something. From there the young guild master took Fallen Kings to new heights by having his brother collect members over time while he grew stronger Soumei is now a wanted man. During their travles they have picked up many interesting wizards such as Rainer, Ray Valkryia and Iris.