Name: Elfman Strauss
Alias: Beast Arm Elfman
Gender: Male
Age: 18
Birthday: Unknown
Appearance: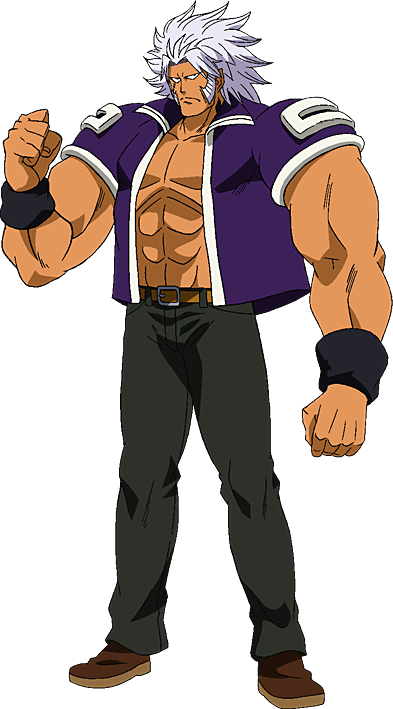 Height: Unknown
Weight: Unknown
Sexuality: Straight
Personality: 
Some time ago, Elfman was notably shy and weak, with his only real talent being for cooking. This caring nature of his, which was under-appreciated by many members at the time, became quite useful for his younger sister Lisanna and Natsu though, as he looked after Happy's egg before it hatched. After Lisanna's supposed death, Elfman's personality changed drastically. He sought to become stronger in order to protect his sister, Mirajane.
Despite his huge ego, he is always very kind, loving and protective of his sisters 
Mirajane
 and 
Lisanna
, going to great lengths to protect them from any sort of danger, even threatening S-Class Mages or people who may even be stronger than himself, such as 
Bacchus
.As a child, when he lost his parakeet as a child he searched for it for a whole week, but found a different one.He considers himself the strong willed, and pride powerhouse of Fairy Tail. He is very self-conscious about his manliness and always uses the word "man" as a self-proclaimed image of himself, and as a guide for others to follow. He also scowled at 
Jet
 and 
Droy
 of Team 
Shadow Gear
 for putting Levy in danger during their mission and also -on their part- failing to show pride as men.
Strength: 
Enhanced Strength: As evident of his massive size and muscular build, Elfman possesses a high degree of physical strength: even without the use of hisBeast Arms, he's shown capable of lifting four humans by himself, holding two under each of his arm, without effort, and to run freely while doing so. He is also able to send several people flying high up in the air through simple punches even without the aid of his Magic.
Enhanced Reflexes: Despite his large size, Elfman has displayed great reflexes and deceptively high speed, having been capable of evading most of Gajeel's close-range attacks during their brief confrontation, even when the latter assaulted him from different directions with the branches of his 
Iron Dragon's Club
, a move which struck several people who were standing quite away from the two of them, but which Elfman, who was right in front of Gajeel, managed to avoid without fail.
Enhanced Endurance: Elfman has been noted to possess a very large amount of stamina: while clad in his 
Lizardman
 form, he was shown able to undergo a long and exhausting barrage of unarmed blows from Bacchus, a 
S-Class Mage
 from the 
Quatro Cerberus
 guild specializing in hand-to-hand combat, whose strength is said to rival 
Erza Scarlet
's, and remain the only one standing afterwards. Erza herself described Elfman's stamina as being likely unrivaled within Fairy Tail.
Expert Hand to Hand Combatant
: Elfman is a melee specialist, with hand-to-hand combat, paired with his various Beast Arms, being the main element of his fighting style. He was shown making short work of different Phantom Lord members, defeating some of them with fast and accurate punches and others through sheer physical strength, and could also engage in close-range combat with Gajeel Redfox, being eventually struck just due to distraction. During the preliminary phase of the 
Grand Magic Games
, Elfman was shown capable of easily dispatching several opponents in unarmed combat even without the aid of his Take Over, using both strong punches and simple grips to overwhelm his foes.
GUILD
Guild: Fairy Tail
Guild Tattoo: Left side of his neck and black
Rank: S-rank
MAGIC AND ABILITIES
Name Magic: 
Take Over
Magic:  alongside his sisters 
Mirajane
 and 
Lisanna
, is known for the accomplished use of Take Over, a form of Magic which, as the name implies, allows the user to take over the appearance and abilities of beings they really "know".  It is their use of such Magic which made the three of them known as the "Take Over Siblings". Elfman's form of Take Over Magic is called 
Beast Soul
 (獣王の魂 (ビーストソウル)Bīsuto Sōru), which allows him to record and seal a monster's body part he has touched into his right arm, gaining the ability to subsequently transform his arm into that of the creature. Transformations seem to take place by tearing Elfman's clothes off and covering his bare arm (or his entire body) with many flat, square-shaped plates, which subsequently disappear, revealing the summoned part.  When he first revealed his power to Mirajane, Elfman displayed poor control of his transformations, suddenly changing his arm from the leg of a bear, to that of a giraffe; though also proving that even at a young age he had the strength to Take Over simple beasts.
Magic Seal:None
List of Elfman abilities:
http://fairytail.wikia.com/wiki/Beast_Soul 
BACKGROUND
History:Sometime in his early years, Elfman's parents died. After his older sister, Mirajane, defeated a Demon that terrorised their village and took on its form, Elfman was forced out of the village along with his two siblings. They later joined the 
Fairy Tail Guild
, and quickly fit in with the excitable guild. Due to Mirajane's self-imposed isolation, however, Elfman and Lisanna took to learning Take Over magic as well, so that their older sibling would no longer feel alone. Catching Mirajane in the streets just as she was about to leave them, Elfman promised that they would protect each other with their powers, convincing his sister to stay.  He was around 12 years old at the time. When he was younger, he was quiet, shy and kind. During this time, out of all his siblings, Elfman was the only one who couldn't do a 
Full-Body Take Over
, something which depressed him greatly, as he was supposed to "be a man".  During this time, Elfman helped Natsu and Lisanna raise an egg they found.
In the year X782, Elfman was deeply scarred by an incident where his younger sister, 
Lisanna
, was supposedly killed by him when she tried to stop his rampage after he attempted to use Beast Soul: Full-Body Take Over. During his rampage, Elfman hit Lisanna with great force, throwing her a great distance. It is said that due to this, Elfman's heart was locked shut, despite his use of the spell to protect his sisters.