Name: Freed Justine
Alias:
Gender: Male
Age: 20
Birthday: Unknown
Appearance: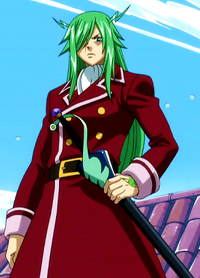 Height: 5,9
Weight: 160
Sexuality: Unkown
Personality: Freed is the most collected member of the Thunder God Tribe; while the three members were rarely ever seen in the Guild, Freed remained the most distant between all of them, preferring to be both emotionally and physically detached from his guild mates and the goings on of the Guild. This calm demeanor allows Freed to remain seemingly emotionless even while his teammates are expressing emotions relatively dissimilar to his. Initially, he saw Laxus Dreyar as his only comrade, being willing to renounce Fairy Tail in order to follow his ideals. Above all else, Freed is an honor-bound man, and when he feels indebted to someone he will go out of his way to repay that debt, even if it goes against his own personal interests.
Relationships: If your character is some how connected to another character. Tell us about it.If not, leave blank. If your character has more then one relationship you should right them like this
Respect- 0100
Friendship - 0/100
Attraction - 0/100
Trust - 0/100
Status - (like friend.rival,lover)
Info - (Tell how you met them or)
Likes:
Fairy Tail
Laxus
Thunder Tribe
Honor
Dislikes:
Anyone who is rude to Laxus
GUILD
Guild:Fairy Tail
Guild Tattoo: It's green matching his hair, and is on the back of his right hand.
Rank: S
MAGIC AND ABILITIES
Name Magic: Dark Écriture, Jutsu Shiki
Magic:
Dark Écriture: Freed's primary Magic, which allows him to write runes in the air, either with his sword or his own fingers. Such runes, depending on what is written, will have different effects. Dark Écriture, a form of Letter Magic, comes in as an extremely useful form of Magic, with the runes being used ranging from offensive ones, which can inflict excruciating pain unto a person, making it impossible for them to fight back, or even infuse them with specific feelings, to those capable of changing Freed's own appearance, to make him more formidable in combat or grant him added advantages and capabilities. Dark Écriture seems to be related to Freed's right eye, which was shown taking on a dark color during some instances in which he made use of this Magic. "Écriture" is French for "Writing", in reference to the Magic's nature and, perhaps, to Freed's own appearance.
Jutsu Shiki: Also a form of Letter Magic, Jutsu Shiki revolves around the use of the very same runes which Freed employs with his Dark Écriture; this form of Magic allows him to erect Magical barriers in the form of rune enchantments in a given area, preventing those inside it from exiting. Each enchantment possesses specific "rules" to it, which are freely set by Freed, and which must be complied with in order for the ones trapped inside to leave the barrier. Escape is otherwise impossible, with the rules being "absolute", and even an immensely powerful Mage such as Makarov Dreyar is incapable of breaking them. While taking quite a long time to cast and thus being almost useless in actual combat, if given the right time and planned carefully, Jutsu Shiki can be extremely useful and helpful, being ideal for setting up traps, and having been one of the main aspects of Laxus Dreyar's plan to take over Fairy Tail, which was held in check and had most of its members defeated, with the comrades fighting each other to escape the enchantments, simply through Freed's use of it. This seems to be a very advanced form of Magic, as Makarov went on to describe Freed as having become very powerful due to its use. However, due to Jutsu Shiki not being dynamic as Dark Écriture, the barriers created with it can be, with some effort and given some time, undone, either by someone adept at languages and writing, or simply by someone who has witnessed Jutsu Shiki being cast different times.
Magic Seal:
BACKGROUND
History: Sometime before joining the Thunder God Tribe, Makarov asked Freed to supervise Laxus in the hopes that he would stop him from doing anything wrong. Before the Battle of Fairy Tail, Freed hadn't returned to the guild for half a year and hadn't met any of the newer members, such as Lucy Heartfilia. During Fairy Tail's battle with Phantom Lord, he was away in another town.
Before the Laxus' announcement of the battle of Fairy Tail, Freed set up a barrier that prevented those over the age of 80 and stone statues from leaving the guild. He also set up multiple enchantments throughout Magnolia that forced anyone trapped inside to fight one another until only one combatant remained.