Name: Cynthia Malley
Alias: Andraste 
Gender: Female
Age: 25
Birthday: 5,20,X857
pearance: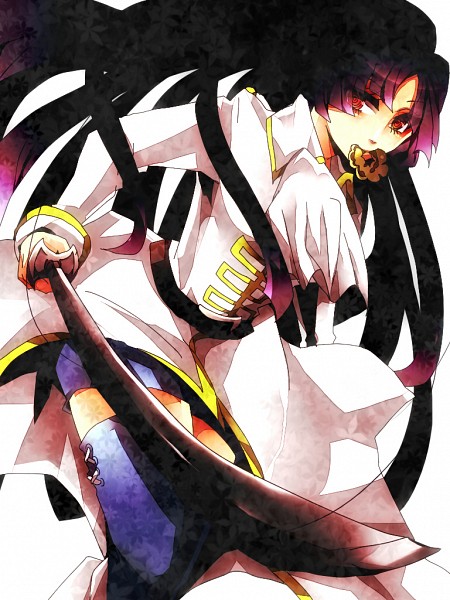 Spoiler: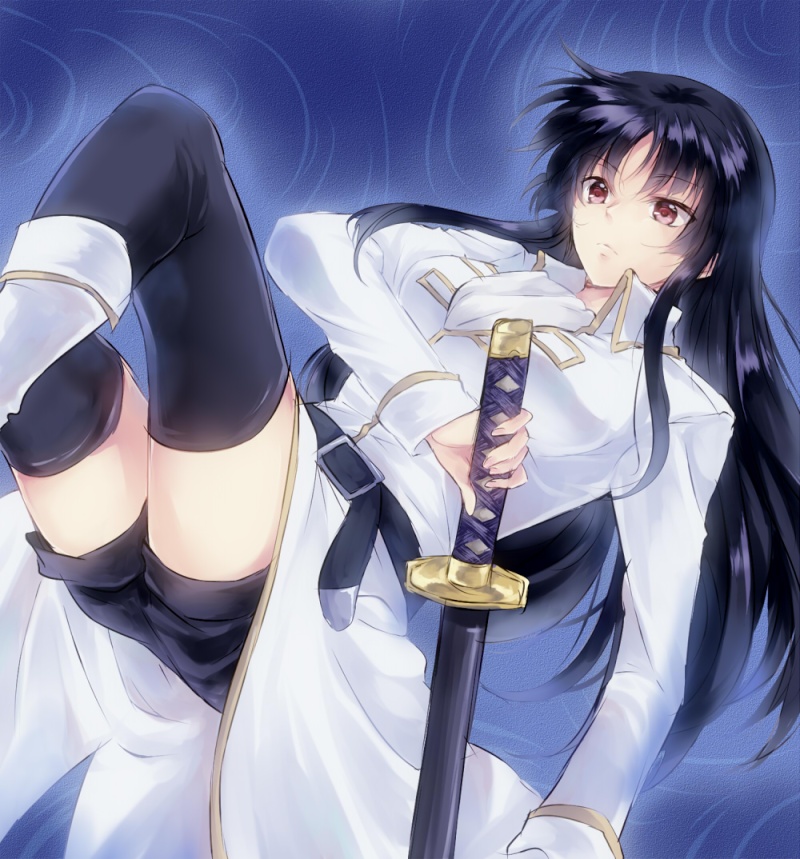 Height: 5,10
Weight: 166
Sexuality: Straight
Personality: Quiet yet strong Cynthia is one of the rare characters you will ever see or meet. Young and beautiful she knows how to work her beauty so that she can get in with other people and learn things. She is yet still very evil as she takes advantage of people emotion,feelings,trust anything she can use even their weakness for the littlest thing to use against them. Cynthia does have a cheerful and hopeful side mainly for everything she had been through by herself and the guild, sometimes playful Cynthia likes to tease her friends and guild master with her body or her overall skills. In the past 6 years Cynthia has become a bit more mature and helpful to others also like a teacher figure to others.
Relationships: 
Allen
Respect- 100/100
Friendship - 100/100
Attraction - 86/100
Trust - 100/100
Status -Best Friend/Ex Lover
Info - Like most people in the guild know Allen is the leader of the junior squad but he wouldn't have got there without Cynthia love and trust in him. They have grown up together and even train together at one time in her life Cynthia was madly inlove with Allen but as they grew older that love faded to become a best friend and leader like trust out of everybody in the guild she understands Allen the best the same way he understands her.
Clare
Respect- 100/100
Friendship - 100/100
Attraction - 76/100
Trust - 100/100
Status - Sister like friend
Info - Clare and Cynthia are the only top junior girls as such they get long very well to the point where they almost like the best of sisters Cynthia has even said more then once she would die Clare if she went that way
Likes:
Cookies
Swords
Clothes
Horses
Music
Going out to annoy people
Love even if its not her style
Strong men
Slayers who go against the odds
Fighting strong opponents
Dislikes:
People who are sexiest
Those who want to harm her guild
Jokes about her body type
People annoying her when she cooks
Dark guilds
Strength: Overwhelming strong Cynthia was the only member out of the junior squad who had the strength to step up and be senior member at any moment in time. Now as a member of an elite squad it says a lot about Cynthia strength. Cynthia has the smarts to understand her area and use it to her strength as lets say if she was in a forest area she would use to the trees to confuse her opponent to thinking she was many places when she was only in one spot which also proves how smart she really is. If Cynthia can turn her battle plain into something she can work with then Cynthia has the brain to understand her area while it may take some time for her to get use to it once she does she is overall just fine. Swordsmanship her name special skill while Genesis supports the use of swordsmanship more then anything given the nickname Andraste she has to always prove her swordsman skills. Cynthia even on her worse day is able to fight about five sword wizards or swordsmen at once. Over the course of the last six years her swordsmanship has improved greatly. Focusing on the quick draws of her sword it seems as if her sword never has to escape its sheath to attack her opponent, when release from its sheath Cytnhia sword skills seem to boost up everything her speed and strength alike. Swordsman-Master her swings are to fast to see by the naked eye or those without talent, her counters stunt the hand of her opponents for a second or two and her cuts are clean enough to slash through steel.
Weaknesses: Over all strong yet weak would be the one creak in her sword the heart of a warrior while she is the Goddess of victory Cynthia can't think of every plan putting her in the put to where she needs to think about what she is going to do and how she going to do when her friends life is at stake or somebody close to her is close to dying she acts rash and those rash thoughts of hers have more then one time gotta her wounded or nearly killed.
GUILD
Guild: Genesis
Guild Tattoo: In between her breast marked in a white coloring
Rank: SS between Guild Ace
MAGIC AND ABILITIES
Name Magic: The Goddess,Sense of worlds,Demon Body
Magic: The Goddess Cynthia main magic that she has develop and earned her the nickname Andraste. The Goddess is not a mix of slayer magic but a mix of requip,heavenly body and seal magic while still keeping its special form. The Goddess allows Cynthia to call on forms of many weapons that she has created over the course of her battles each weapon being something different that means a lot to her and it can base on a person with that the magic would have the soul of the person and that bond within the stronger the bond and the will with the weapon the stronger it makes Cynthia. While the heavenly body magic comes in as dark purple like markings on her shoulders the magic isn't base on the star side but still the Goddess the attacks range from boosting up her body to casting powerful blast of energy,swords of light or other weapons,summoning monster like beast or clones/mirror images of herself to combat and do battle. The Goddess last form is Cynthia favorite her seals while the seals are closely related to her heavenly body side they only focus on offense and defense the higher the number of her offense or defense seal the stronger/powerful the spell is but at the same time the more magic it takes up.
Sense of Worlds:Cynthia special train magic she has made by training and talking with Allen the magic is more of a defense type of magic not as much as offense for the reason it deals with seeing and healing. Cynthia magic allows her to heal her wounds at a super  rate while it takes up a good size of her magic she can heal whole arm back to its once glory strong state in under a minute and she can do the same for her team or friends anybody she wants not just her. While she does not have eyes as good as Allen at times Cynthia is able to see and follow the movement of others with her eyes being able to watch even the fastest moves with a little bit of extra magic she can see into the future of the person being able to dodge and move out of the way of the attack.
Demon Body:Copying her Guild Master/Ex-Lover/Friend Allen she has taken the defense style of a demon. Allen taught and trained Cynthia body to be able to match that of a demon slayer. With her own twist Cynthia is able to use Demon Body as a form of defense allowing her to take that much damage then a normal wizard and when a enough magic is place in Demon Body she grows horns and enters a state almost like Demon Force increasing her own magical and psychical abilities. 
Magic Seal:
Strength: Cynthia magic believe it or not is only boosted up when she has fought for a length of time anywhere after the time period of five minutes (six to seven post) her magic will become stronger in both areas of magi
Weaknesses:Cynthia magic is always on her sense of world and with that her magic takes a large bite out of it everytime she heals a wound she takes out the normal amount it would take for a dragon attack when she breaks a bone its double that when she loses a body part triple that.
BACKGROUND
History:While she doesn't have a bad pass Cynthia had choice to become a wizard because of her sister. Cynthia parents were never around her sister on the other hand was a member of guild called Shadow Wolves and she took care of them. Cynthia went on missions with her sister to take down dark guilds and collect money which wasn't a bad thing. For years it all seem good till one day on their way back from a mission Cynthia sister had been marked as a traitor for what ever reason. Her sister was attacked again and again but to nothing she had never lost thats why she was Jet Black Yume. One day making it to a town they was attacked by three of Shadow Wolves newest members like all Yume beat them but the youngest one had got the better of them while they were leaving she attacked Yume cutting off her legs then finally her head. Cynthia watched as her older sister had been killed in front of her she cried and stay in that same spot for days on end. Around that time she met a wondering Allen who brought her to Genesis where she vowed on a change she vowed to become strong. Cynthia formed a team with only Allen and Kain at first their missions low rank missions for about two months then they got a real missions. Cynthia,Allen and Kain were to go and kill an S class wizard. In the battle they had the hardest time the wizard was a guild master a powerful one but Cynthia watching her sister fight so many times made a plan she was able to make it where the guild master couldn't use his magic takes to Kain ring while her and Allen finished him. She was known as their Goddess of victory after that it wasn't till the whole junior squad was formed and they went to battle against Genesis ex Ace wizard did Cynthia earn the name Andraste for she was the one who killed the former ace and she was the one who brought them to justice. At this time and day Cynthia still hates Shadow Wolves but she mainly hates a member call Claudia. Sometime Cynthia and her guild would enter a tournament only to lose to Taiyou who worked for Fairy Tail at the time. After returning home Cynthia had a word with Allen before she disappeared to go and kill a wolf. Battling with Claudia who she try to slay she heard about the war that was happen and rush back to her guild. Once there Cynthia found that Allen was gone and that her guild was going through a tough time. Not much happen till Allen came back and with him she came to take the guild under his control. Being a very huge factor in Allen plans Cynthia was always on the frontlines of the guild war until it was over. Once Allen became Guild Master she found nothing to do once again until she open up more to her guild members. Spending time with her new transformed guild and her good friend she trained under him. With Allen advice she took a trip here and there just to see the world.