Name: Gray Fullbuster
Alias: Ice-Boy
Gender: Male
Age: 18-19
Birthday: Uknown
Appearance:
Sexuality: Straight,
Personality: Gray has a laid back personality, but he will often get serious when the time calls for it. He and Natsu have a (sort-of) friendly rivalry, and while they can often be seen fighting one another verbally or physically, they are actually concerned about each other
Relationships: If your character is some how connected to another character. Tell us about it.If not, leave blank. If your character has more then one relationship you should right them like this
Respect- 0100
Friendship - 0/100
Attraction - 0/100
Trust - 0/100
Status - (like friend.rival,lover)
Info - (Tell how you met them or)
GUILD
Guild: Fairy Tail
Guild Tattoo: below his collarbone on his right pectoral muscle
Rank: S
MAGIC AND ABILITIES
Name Magic: Ice Make
Magic: A form of alchemy magic that creates shapes or objects out of ice. In Gray's case, he uses Static ice magic, meaning he can shape his ice into weapons or attacks. Gray is incredibly skilled at this, as he was commended by the Magic Council for creating objects quickly and effortlessly during the battle with Zeref's demon. Gray's skill in Ice Make is skillful enough to completely freeze Juvia when she was in a state of boiling water, as well as freezing an object faster than Sugarboy's Rosa Espada could soften it. After the fight with Sugarboy, Gray also demonstrated the ability to manufacture an exact replica of objects using his ice as the primary material, as seen when he produced a flawless copy of the Dragon Chain Cannon Key. For the Fantasia Parade, Gray was able to create a large, beautiful, and intricately designed Ice Castle.
Magic Seal: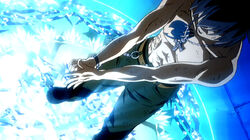 BACKGROUND
History: Much of Gray's history is revealed during the Galuna Island arc. Gray was from a village up in the North but the entire village was destroyed by the demon, Deliora and Gray's parents were killed in the incident as well. Lyon and Ur, a powerful ice mage who Jellal claims could have been one of the Ten Wizard Saints, found Gray alive among the ruins of the destroyed village in the North. Ur took Gray in as her second student and taught him and Lyon Ice Make. Gray accepted the training in order to eventually avenge his parents by killing Deliora. Gray also inherited the unusual habit of unclothing from Ur.
However, due to Gray's obstinacy, he chose to prematurely challenge Deliora, which lead to Ur's self-sacrifice of using the forbidden spell, Ice Shell in order to encase Deliora and protect Gray and Lyon. Gray seems to have inherited this similar selfless personality after the incident, which is shown during his two attempts of using the Iced Shell to protect his own comrades.