Name: Gajeel Redfox
Alias: Black Steel
Gender: Male
Age: 19
Birthday:August x773
Appearance:
Height: 7.8
Weight: 120cm
Sexuality: Straight
Personality: As a Phantom Lord Mage, Gajeel didn't care at all about Fairy Tail, and seemed to think that Phantom Lord was a stronger and more worthwhile guild. When he was first introduced, he was depicted as cold and apathetic, and not at all above injuring his allies if they irritated, as seen when he iron-clubbed a fellow Phantom Lord Mage who was praising his abilities, all because the latter was disturbing his meal at the time.
However, he is completely and genuinely dedicated to whatever guild he is affiliated with. In fact, he ignited the Fairy Tail/Phantom Lord Guild War mainly because, as long time-rivals, he believed that the Fairy Tail Mages were enemies, and as a Phantom Lord Mage, Gajeel saw it as an obligation to "protect" his own guild, even if it meant starting an unprovoked attack against Fairy Tail.[4] Upon his recruitment to Fairy Tail,[5] this sense of comradeship did not change in the slightest; he even went as far as reprimanding Laxus (whom he admits to be a more powerful Mage than he is) for attempting to kill Natsu with his lightning, when they (Laxus and Natsu) are supposed to be G
Relationships: If your character is some how connected to another character. Tell us about it.If not, leave blank. If your character has more then one relationship you should right them like this
Respect- 0100
Friendship - 0/100
Attraction - 0/100
Trust - 0/100
Status - (like friend.rival,lover)
Info - (Tell how you met them or)
Likes:
Cats
Fighting
Eating
Rocking
Beating
Fighting Natsu
Dislikes:
Annoying people
Dark guilds
People that mess ith fairy tail
Strength: ajeel has shown on different occasions to be incredibly strong: during his time under Jose Porla, while he was tormenting the captured Lucy Heartfilia, Gajeel could casually headbutt a fellow Phantom Lord member who was asking him to stop with enough force to shatter the stone floor he had the man crash on.[103] His physical might is enough for him to clash with Natsu on even terms, to block and shatter Pantherlily's gargantuan Bustermarm Sword,and to pin down and hold still the gigantic Dorma Anim all by himself, allowing Natsu to finish it off.[105]
Gajeel is known for extensively employing unarmed combat, and to possess great proficiency in doing so: his style is a brutal one, consisting of powerful, direct moves such as devastating punches and headbutts, complemented by his high physical prowess, with his strength making his blows highly damaging, and his speed allowing him to land them in extremely fast succession.
Weaknesses:Gajeel cannot hear Levy's warning, so she pulls Gajeel away from Kawazu, who drops Egg Busters. When Levy uses her Solid Script: Silent to silence Gou, Gajeel, who is now able to hear, punches Yomazu. Despite gaining this advantage, Yomazu is able to cut through Gajeel's iron dragon scales with Zan. He then uses Kan to pierce right through Gajeel. Levy is saved by Gajeel again...Yomazu then uses Narukami to hit him again. With Gajeel down on the ground showing that he Gives his life for his friends
Extra information: Tell us something extra about your character. If you don't want to leave it
GUILD
Guild: Fairy tail
Guild Tattoo: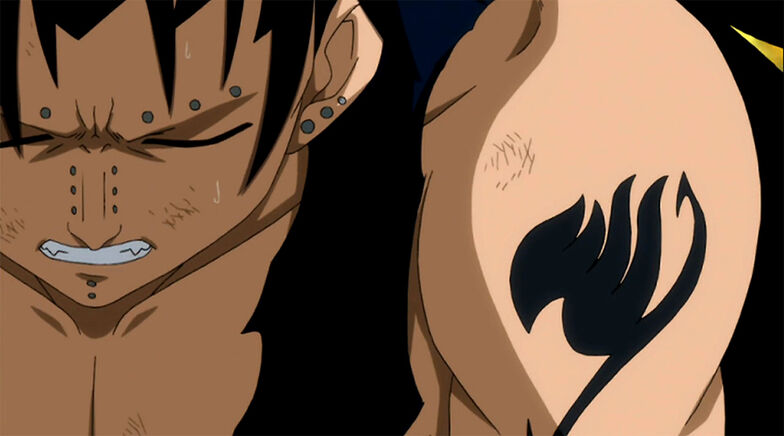 Rank: S rank
MAGIC AND ABILITIES
Name Magic: Iron dragon Slayer
Magic: Like Natsu, Gajeel was taught by a dragon to manipulate a particular element into his fighting style: in Gajeel's case, the dragon Metalicana taught him how to use Iron Dragon Slayer Magic. However, as the name implies, his Dragon Slayer Magic deals with iron instead of fire. Just as Natsu eats fire to regain his strength, so can Gajeel eat iron to regain his own. His teeth and jaw muscles are apparently powerful enough to gnaw through solid metal with ease, and he can devour even the Magic-canceling metal of the Dorma Anim. Gajeel's Magic deals with producing multi-sized iron rods as well as changing parts of his body into steel. Most of his attacks involve transforming his arm's into hard-as-steel weapons, which he can do at will
Magic Seal:
Strength: Even without his Dragon Slayer's abilities, Gajeel has consistently proven himself to be one of the more resilient characters in the series: when he was confronted by team Shadow Gear after joining Fairy Tail, he was able to shrug off the combined attacks from Jet and Droy without retaliation and, in the the anime, only resorted to finally summoning his metal scales to increase his defense when Laxus tried to attack Levy.[101] During his time in Edolas, Gajeel used his metal scales to fight Faust's mechanical Dragon, where he absorbed extremely powerful blows with little trouble.Gajeel's overall speed and reflexes are impressive, enough for him to intercept attacks like Laxus' Magical bolts and reach Levy in time to save her from a double-team ambush of two Grimoire Heart Mages.[102]
Weaknesses: He uses this for tracking purposes as apparently, nothing can escape his nose. This is best shown when he could track Lucy to Fairy Tail's secret hideout. It is also inferred that he used this skill when he was tracking down Levy, who ran away from him in the S-Class Trials out of frustration.
BACKGROUND
History:Similar to how Natsu learned his "Fire Dragon Slayer" magic from the dragon Igneel, Gajeel learned his "Iron Dragon Slayer" from the dragon Metalicana. Both Igneel and Metalicana disappeared seven years prior to the beginning of the series on July 7 in the year of X777Gajeel leads the attack on Fairy Tail by wrecking the Fairy Tail guildhall with large iron rods.[1] He then attacks Fairy Tail's Shadow Gear team and pins them to a tree, crucifixion style, burning the Phantom Lord symbol into their waists. This act ultimately provokes Makarov into declaring war on Phantom LordGajeel leads the attack on Fairy Tail by wrecking the Fairy Tail guildhall with large iron rods.[1] He then attacks Fairy Tail's Shadow Gear team and pins them to a tree, crucifixion style, burning the Phantom Lord symbol into their waists. This act ultimately provokes Makarov into declaring war on Phantom LordGajeel uses his superior sense of smell to track down Lucy Heartfilia, who he captures and brings back to his guild after the Element 4 are defeated.[19] He is ordered by Jose to watch Lucy, but Gajeel cruelly tortures her to pass the time.[20] As Lucy insults Gajeel, he smells Natsu coming and moves to kill Lucy, provoking Sometime later, Phantom Lord is disbanded, and Gajeel remains at the ruins of his former guild. He is eventually approached by Makarov, who tells him that Juvia Lockser, another former member of Phantom Lord, has joined their guild, much to Gajeel's displeasure. Although still enraged that Gajeel had destroyed his guild and injured Shadow Gear, making it clear that he would never forgive Gajeel for it, Makarov offers Gajeel membership to Fairy Tail so as to help guide Gajeel down the right path. Moved by Makarov's statement, Gajeel accepts his offer