Name: Shane Rockheart
Alias: Havoc, Salvation Dragon
Gender: Male
Age: 19
Birthday: 5,18,X858
Appearance: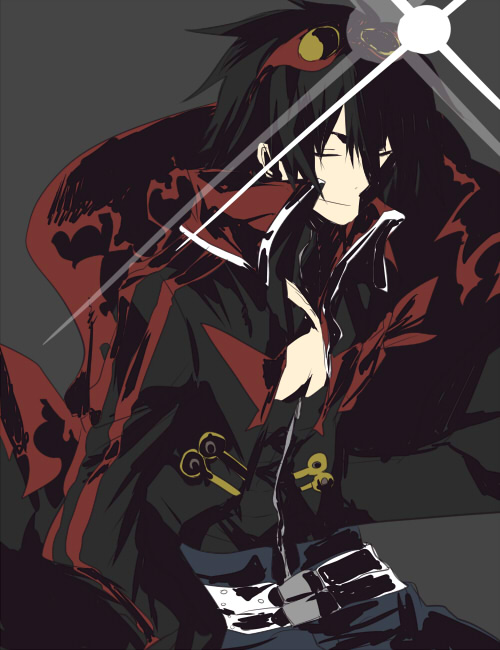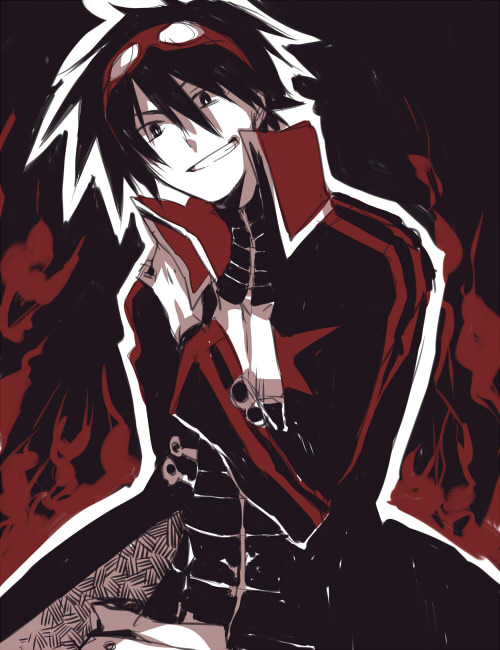 Height: 5'11
Weight: 190
Sexuality: Straight
Personality:In the past Shane loves to cause havoc like most people in his guild but Shane likes to cause it the most for whatever reason. Shane has  strong battlelust willing to kill and fight anything at time of the day will Shane doesn't have much of  conscious it takes a lot to even make Shane care about something he did or care for someone on a high base.Shane   has no sense of regret at all. He has a tendency to twitch when he gets particularly excited in a fight. Shane other personality hasn't been shown quite yet but it will in time. As time past Shane gain self control while he is still very battle thirsty he is able to keep his problems under wraps and keep a calm head. Shane has shown throughout time that he is worried what other people think of him and at time felt like he wasn't part of the guild, Shane has even talked about how he felt lonely but as time pass he has overcome these things. Shane becoming older has become more caring and loving of his guild and their members. Shane hold a sense of strength now and will do much to protect his guild he just maturer then before but his mouth is the same.
Relationships:
Maci Garden
Respect- 72/100
Friendship - 100/100
Attraction - 85/100
Trust - 95/100
Status -Friend and Team Member
Info - A member of Shane and Silver team Shane has nothing but respect for Maci and over the years watching her become even more sexy he can't get enough of her
Alex Howard
Respect- 100/100
Friendship - 100/100
Attraction - 0/100
Trust - 100/100
Status -Friend,Master and Rival
Info - Shane and Silver fought Alex at one point and it was fun after Alex change for the better he help Shane through many of his problems along with training Shane throughout the years that past
Tahlia Summer
Respect- 100/100
Friendship - 100/100
Attraction - 100/100
Trust - 100/100
Status - Amazing Friend
Info - One of the hottest women Shane known Tahlia was a big part of Shane life growing up she helped Shane learn to accept himself and she help him to understand he wasn't weak
Nove Summer
Respect- 86/100
Friendship - 100/100
Attraction - 100/100
Trust - 96/100
Status - Friend,Ex,Team Member
Info - The last member of Shane and Silver team he and Nove had a relationship she help him through many problems and they grew together even though Shane was a child Nove was a big reason why he mature over the years
Kenji Ookami
Respect- 100/100
Friendship - 85/100
Attraction - 0/100
Trust - 80/100
Status - Somewhat rival
Info - Shane has fought Kenji a number of times but he hasn't been able to beat him only a hand for but that was because Shane was young he sees Kenji as a strong wizard
Silver Sparks Zoldyck
Respect- 100/100
Friendship - 100/100
Attraction - 0/100
Trust - 100/100
Status - Best Friend
Info - Silver is Shane best friend for life and his team member if anything Silver and Shane have a bond unlike any other even though they fight and disagree they can overcome it and still kick ass together being both Slayers they work well together
Ally Howard
Respect- 100100
Friendship - 100/100
Attraction - 70/100
Trust - 100/100
Status- Guild Master
Info - Ally is Shane guild master and though it don't seem like much Ally watched over Shane and Silver like they were her little brothers Ally has always care for them and has always help them for that Shane loves Ally and for that he fights for her
Juliet House
Respect- 71/100
Friendship - 66/100
Attraction - 100/100
Trust - 66/100
Status - Somewhat friend
Info - Shane doesn't trust Juliet because of while she the type of girl who takes people things like money and their clothes Juliet more then once has trick Shane and they don't get along but he does think she is hot
Raizo
Respect- 70/100
Friendship - 70/100
Attraction - 0/100
Trust - 80/100
Status - Friend
Info - Shane and Raizo are both in the guild they have talked a lot and they have been on a few missions together Shane and Raizo are friends simply beside the fact they are both Slayers
Likes:
Fighting
Causing havoc
Sleeping
Eating food
Drinking soda
Blowing things up
Seeing something cool
Dragons
Dislikes:
Getting pissed off
Being called cute and people playing in his hair
Getting treated like a kid
Strength:Shane is a Dragon Slayer though growing up he had skills he improve on those skills in the years that follow Shane fighting abilities increase with his strength being able to lift more two times his own weight Shane strength was great now with that strength he increase his speed so Shane ran everyday with weights on his body all of this with fighting abilities make Shane simply a well balance fighter in speed and power fighting much like a type of karate and boxing Shane adopted these two styles into his fighting form now also a little smarter then before Shane uses simple things and simple tricks to win a battle if he has to and something he takes pride in his Dragon Scales are real scales now Shane can take more damage then you take he would be able to while just battling
Weaknesses:Shane angry is one of his number one weakness while he has matured in many ways that is something that still hasn't change when ever Shane gets angry he loses all sense of reason and he just goes into a rage. Another weakness of Shane is also his emotion his fear of being alone that when creeps onto Shane turns him into almost like a shell of his former self sad really.
Extra information: Tell us something extra about your character. If you don't want to leave it
GUILD
Guild: Crimson Liger
Guild Tattoo: On his left arm and its black
Rank: S
MAGIC AND ABILITIES
Name Magic: Salvation Dragon
Magic: Shane power as the Salvation dragon is different from most. As a child his Dragon Slayer power was heat however this was just Shane not understanding how to use his power. The Salvation Dragon element is pure energy made from the wants of others to be saved and this is what Shane eats the emotions/feeling of wanting to be saved from whatever. Shane pure green energy burns hot almost like a beam cutting through metal, it moves almost at the speed of light and when it is use the energy makes a noise that sounds like a beam shooting through the sky.
Magic Seal:
Strength: Every time Shane eats his magic increases and everytime he uses more and more of his Dragon Slayer powers they increase
Weaknesses: Dragon Force when use by Shane causes him to be very weak and shorten his life span.
BACKGROUND
History:Shane one day appeared inside the Crimson Liger  without warning the members became scared of him because of his wild look and his magical power he was giving off the guild master walk in and calm Shane down noticing his magical power the guild master made friends with Shane first before the rest of the guild did. Shane after that lived with Crimson Liger after that but the history is still in darkness. After some events it shows that Shane is a child of hope he was saved by the Salvation Dragon with the hope that he would bring peace to the world and this only happen because of the man who change the past and brought he wizards to the future. Shane angry was him never having a family and never having anyone other then his Dragon Parent. With the help of Alex,Ally,Silver and his guild Shane overcame this to become the Dragon Slayer he and man he is today.